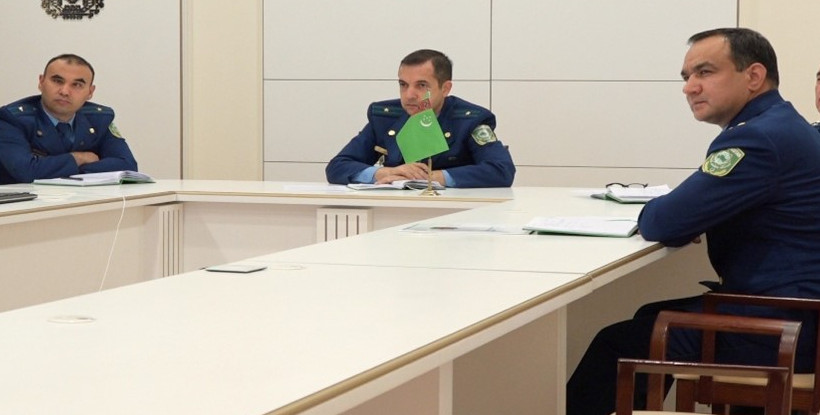 On September 23, 2022, the State Customs Service of Turkmenistan held an online bilateral working meeting with Uzbek colleagues, during which Uzbek customs officers shared their experience in implementing the Digital TIR system in the customs authorities of Uzbekistan.
This business meeting was organized in order to comprehensively study the proposal of the State Customs Committee of the Republic of Uzbekistan to join the Digital TIR project.
As noted by Uzbek colleagues, the process of digitalization of customs procedures in Uzbekistan began in 2002. The Digital TIR project came into force in 2021, the purpose of which is to ensure the secure exchange of data between national customs systems for the international transit of goods, vehicles or containers in accordance with the provisions of the Customs Convention on the international transport of goods using a TIR Carnet. The pilot project "Digital TIR" was launched between the Republic of Uzbekistan, the Republic of Kazakhstan and the Republic of Kyrgyzstan.
The Turkmen side, in turn, noting the important achievements in the digitalization of customs procedures in Turkmenistan, i.e. implementation of the ASYCUDA WORLD integrated system, TIR-EPD applications, as well as the ongoing project "Single Window for Export-Import Operations" in the customs authorities, expressed interest in the Digital TIR project and gratitude to the Uzbek side for the offer and willingness to share their experience .
During the meeting, discussions were also held on other areas of mutual cooperation. In particular, issues related to the work of the Turkmen-Uzbek checkpoints and the draft bilateral documents being developed were considered.
At the end of the meeting, the parties noted the importance of holding such meetings and expressed hope for further mutually beneficial cooperation.