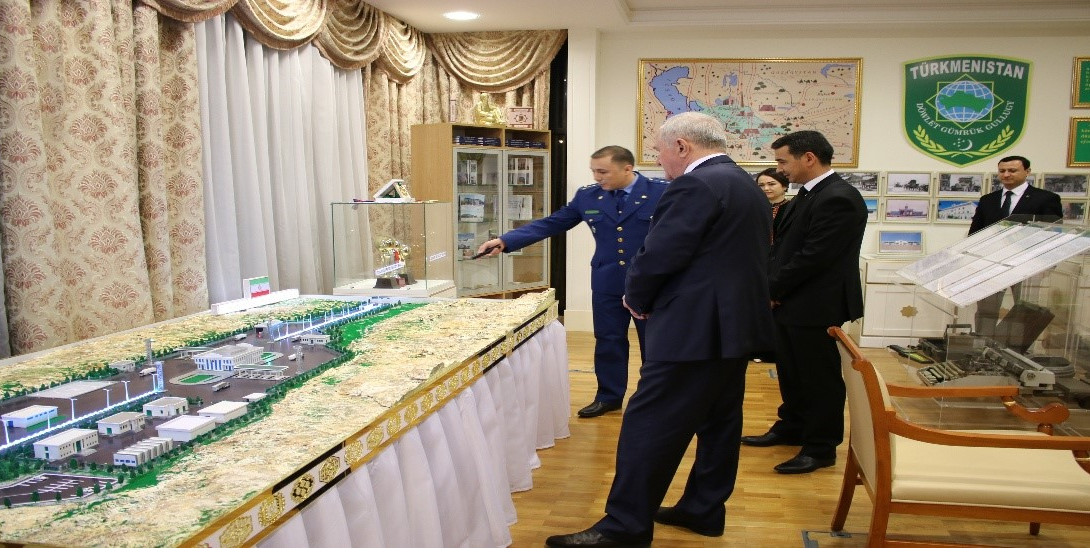 On January 19, 2023, in the building of the Central Office of the Customs Service, a meeting was held between the Chairman of the State Customs Service of Turkmenistan and the head of the Federal Customs Service of Russia V. Bulavin, who arrived on an official visit to Turkmenistan as part of a representative delegation of the Russian Federation headed by the Chairman of the Government of the Russian Federation Mikhail Mishustin.
During the dialogue, it was noted that in recent years, interaction between the customs services of Turkmenistan and Russia has been developing more and more actively and priority areas for further cooperation were agreed.
Having visited the Central Office of the State Customs Service, the head of the Federal Customs Service of Russia got acquainted with the work of the customs service, examined the building, office premises, a library, and a multifunctional sports hall. A number of presentations were organized for the guest on the activities of the customs authorities of Turkmenistan. In the situational center, located on the first floor of the building, a video was presented on a large monitor, describing the process and the specifics of the customs system in Turkmenistan.
During a visit to the library, which has a rich fund of professional and fiction literature, books of the respected Arkadag, and is used as one of the measures of patriotic education, V. Bulavin emphasized the importance of ideological and ideological and educational work and expressed a desire to introduce the experience of Turkmenistan in this direction by the Federal Customs Service of Russia.
The Russian guest also visited the museum room, where the entire history of the formation and development of the customs service of Turkmenistan is collected and made an entry in the book of honored guests of the GTTS.
Today, on January 20, as part of the official visit of the Russian delegation to Ashgabat, a ceremony of signing bilateral documents was held, during which the heads of the customs services of the two countries signed a Memorandum of Cooperation in the field of personnel training and a Protocol on cooperation in the field of combating customs offenses for 2023-2025 .