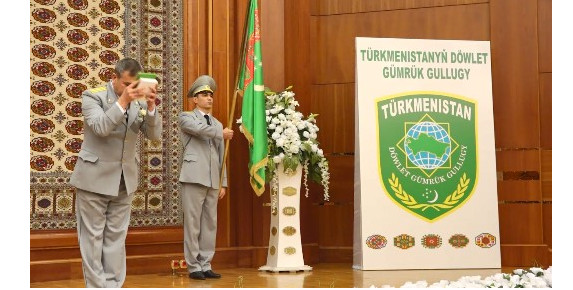 Celebrations on the occasion of the «Day of Defenders of the Fatherland» were held in the assembly hall of the Central Office of the State Customs Service of Turkmenistan. On the occasion of the professional holiday of military personnel, many servicemen of the State Customs Service of Turkmenistan were awarded state awards and regular military ranks.
The gifts presented by our esteemed Supreme Commander-in-Chief increase our enthusiasm for military service and uplift our patriotic feelings. «Our sacred duty is to sincerely and faithfully serve the Motherland on the bright path of our new era, to strengthen the foundations of our independence and neutrality, to contribute to achievements» we all express words of praise and pride. To the Honorable Supreme Commander-in-Chief, who sets a high example of love for the Motherland to the brave servicemen.
We sincerely assure you that we are military personnel, we will follow the exemplary path of our heroic and patriotic historical figures, our patriotic and honest ancestors, and we will sincerely and honestly serve our country, our people, the honorable Supreme Commander in the future, and we will fulfill our military duties to protect the economic security of our country.